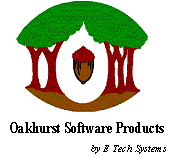 OAKHURST SOFTWARE PRODUCTS are owned and supported by e Tech Systems.
e Tech Systems, Inc was founded in 1988 by Alan Lee and has been active in the sales automation field since then.  e Tech develops custom and packaged add on products for a variety of CRM, Sales, and Marketing systems.
OAK!Merge is a Trademark of e Tech Systems, Inc.  Act!® is a registered trademark of Swifpage
Contact Us

Contact us regarding OAK!Merge Act! add on products for Act!